2018 Espoo & Helsinki, Finland
2018 Espoo & Helsinki, September 6-7-8

The 44th ICAMT conference of 2018 is in Finland, in the cities Espoo and Helsinki. The conference is organized by Eeva Kyllönen with the ICAMT board. Eeva Kyllönen is board member of ICAMT and member of staff at the Espoo City Museum.
All conference venues and meeting points are very good to reach by bus, tram or metro. We recommend you to buy Day tickets for the time you stay in Helsinki and Espoo at the airport on the day you arrive. Taxi is also available, although the prices are above average.
2018 Espoo & Helsinki:
Themes:
museum architecture
exhibition techniques & exhibitions design
PROGRAM
Program in PDF
Dates
The dates are 6-7-8 September 2018
Map
We provide you all the detailed address information, so that you are able to use the map application on your smart phone.
This is a useful online map application for Espoo and Helsinki: https://servicemap.hel.fi/
On this map below you see the first venue of each day of the conference, more detailed information is on the page of the specific day: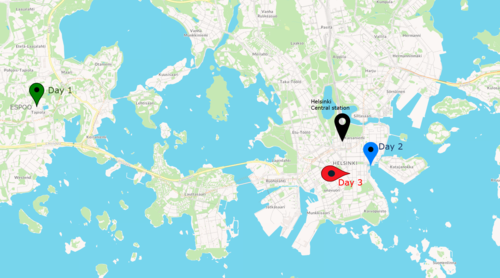 Program (outline)
The conference last for three days, part is in Espoo and part is in Helsinki.
Day 1, 6 september, is in Espoo.
Day 2, 7 september, starts in Helsinki.
Day 3, 8 september, is in Helsinki.
Hotels
In Helsinki and Espoo there are hotels available for all budgets, from hostels to five stars, we will prepare a map with all the venues, you can decide yourself which hotel location suits best for you you.
Hotels are available on all kind of websites like Booking.com, Hotel.com, Expedia.com etc. etc.
Practical
The people in Finland are aware that their language is incomprehensible, most of what you can read in the cities or on websites is translated in Swedish and English, and the people speak English very well. The currency in Finland is Euro. The weather could be cold, temperatures in the evening are relatively low.
Travel in Helsinki and Espoo
The easiest way to travel in Helsinki and Espoo is by public transport. You can buy tickets at all train, metro and busstations. It is possible to buy a ticket for the days you are in the Espoo and Helsinki area at the airport or train station when you arrive. See also the website of HSL
Biking is also possible and a very convenient way to travel around.
See the Citybike website.
Contact
Eeva Kyllönen
eeva@kyllonen@espoo.fi
+358 5052 48 19
Jean Hilgersom
hilgersom@toornend.com
+316 5393 6134