ICAMT Podcast – Episode 1-6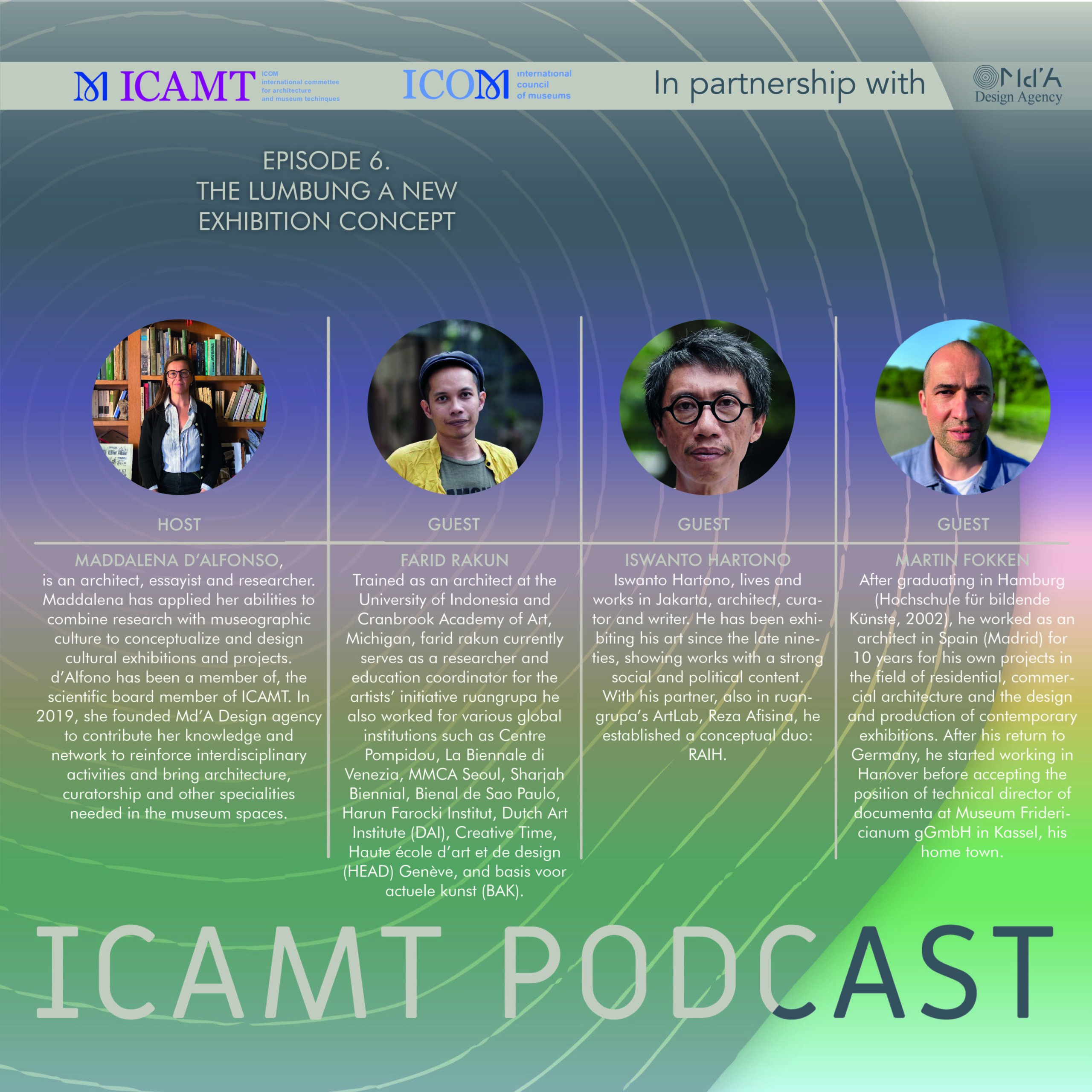 Episode theme – The lumbung a new exhibition concept
Guest –RUANGRUPA
Host – Maddalena D'Alfonso
RUANGRUPA is a collective founded in 2000 and based in Jakarta, Indonesia. As a non-profit organization, RUANGRUPA promotes artistic ideas within urban and cultural contexts through the involvement of artists and other disciplines such as the social sciences, politics, technology or the media to open up critical reflections and perspectives on contemporary urban problems in Indonesia. The Indonesian word "ruangrupa" loosely translates as "art space" or "spatial form." RUANGRUPA also organizes community art projects such as exhibitions, festivals, art labs, workshops, and research projects, and produces books, magazines and online publications.
RUANGRUPA's work is based on a holistic social, spatial and personal practice that is strongly rooted in Indonesian culture, where friendship, solidarity and community are of central importance. The collective has participated in numerous collaborative projects and exhibitions, including the Gwangju Biennial (2002 and 2018), Cosmopolis at the Centre Pompidou (Paris, 2017), Aichi Triennial (Nagoya, 2016), São Paulo Biennial (2014), Asia Pacific Triennial of Contemporary Art (Brisbane, 2012), Singapore Biennial (2011) and Istanbul Biennial (2005).
Today the collective is occupied in the Artistic Direction of documenta fifteen, one of the most important events for contemporary art that takes place in Kassel, Germany, every five years. This year it lasts 100 days, from June 18 to September 25, 2022. The Jakarta-based artist collective has built the foundation of documenta's fifteenth edition on the core values and ideas of lumbung, the Indonesian term for a communal rice barn.
Iswanto Hartono –  lives and works in Jakarta, architect, curator and writer. He has been exhibiting his art since the late nineties, showing works with a strong social and political content. With his partner, also in RUANGRUPA's ArtLab, Reza Afisina, he established a conceptual duo: RAIH.
Farid Rakun  – Trained as an architect at the University of Indonesia and Cranbrook Academy of Art, Michigan, farid rakun currently serves as a researcher and education coordinator for the artists' initiative RUANGRUPA he also worked for various global institutions such as Centre Pompidou, La Biennale di Venezia, MMCA Seoul, Sharjah Biennial, Bienal de Sao Paulo, Harun Farocki Institut, Dutch Art Institute (DAI), Creative Time, Haute école d'art et de design (HEAD) Genève, and basis voor actuele kunst (BAK).
Martin Fokken (Technical Direction) – After graduating in Hamburg (Hochschule für bildende Künste, 2002), he worked as an architect in Spain (Madrid) for 10 years for his own projects in the field of residential, commercial architecture and the design and production of contemporary exhibitions. After his return to Germany, he started working in Hanover before accepting the position of technical director of documenta at Museum Fridericianum gGmbH in Kassel, his home town.
---
Maddalena d'Alfonso is an architect, essayist and researcher. Maddalena has applied her abilities to combine research with museographic culture to conceptualize and design cultural exhibitions and projects. D'Alfonso has been a member of, the scientific board member of ICAMT. In 2019, she founded Md'A Design agency to contribute her knowledge and network to reinforce interdisciplinary activities and bring architecture, curatorship and other specialties needed in the museum spaces.
---
Listen us on channels:
YouTube     Spotify     Google Podcasts    Dezeer     Soundcloud
---