All news
July 11, 2022
Detailed Program of ICAMT Annual Conference 2022 Conference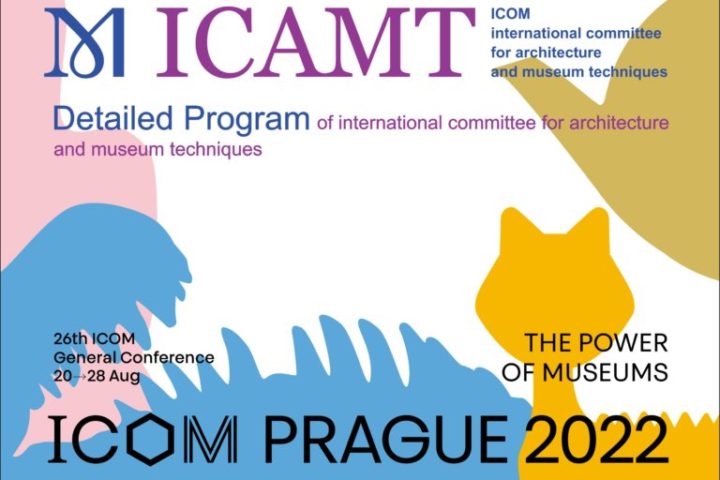 This year ICAMT holds its Annual Conference within the framework of the 26th ICOM General Conference  which will take place in Prague from August 20 to 28, 2022.
In combination with a very interesting program of the General Conference, prepared by ICOM and the Organizing Committee of ICOM Prague 2022, each International Committee have it's own program.
The detailed program of ICAMT 48th Annual Meeting can be viewed and downloaded from here:

---
Program in Brief:
AUGUST 22, Monday
ICAMT + DRMC JOINT SESSION – Museum Techniques and Risk management
Prague Congress Centre (PCC), Club C, Hybrid format
Welcome Speeches: Nana Meparishvili (GE), Chair of ICAMT and Diana Pardue (US), Chair of DRMC.
Key-Note Speaker: Vasyl Rozhko (UA)
Speakers:
Giada Cerri (IT)
Samuel Franco (GT)
Kamila Oles (GB)
Co-author of the paper – Rimvydas Laužikas (LT)

Yacy Ara Froner (BR)
Co-author of the paper – Willi de Barros Gonçalves (BR)

Miriam Elwing (BR)
Yohsei Kohdzuma (JP)
AUGUST 23, Tuesday
ICAMT SESSION – Sustainability
Prague Congress Centre (PCC), South Hall 2ª, Hybrid format
Speakers:
Mårten Janson (SE)
Kiem LIan The (NL)
Manuel Furtado Mendes (PT)
Chun-wei Fang (TW)
Maria Cristina Vannini (IT)
Co-author of the paper – Lucia Pini (IT)

Anna Buzdogán (DE)
Yasaman Esmaili (IR)
Co-author of the paper – Kimia Amini (IR)

AUGUST 23, Tuesday
ICAMT SESSION – Exhibition Design & Digital Interventions in Museum Architecture
Prague Congress Centre (PCC), South Hall 2ª, Hybrid format
Invited Speakers: Michal Stehlík (CZ), Josef Kortan (CZ) and Martin Souček (CZ)
Speakers:
Kali Tzortzi (GR)
Co-author of the paper – Effrosyni Nomikou (GR)

Elli Karyati (GR)
Co-author of the paper – Alexandros Basiakoulis (GR)

Umut Durmuş (TR)
Timothy Ventimiglia (DE) 
Chia-Wei WEN (TW)
Co-author of the paper – Ying-Ying LAI (TW)

AUGUST 25, Thursday
ICAMT OFF-SITE MEETING – Museum Architecture (new cases, completed during COVID-19
DOX (Centre for Contemporary Art) & CAMP (Center for Architecture and Metropolitan Planning)
On-site only format (Videotaped)
Key-note Speakers: Mario Cucinella, Giovanna Forlanelli Rovati – Italy
Speakers:
Nana Meparishvili (GE)
Leszek Jodliński (CZ)
Miok Cindy Choi (KS)
Lívia Nolasco-Rózsás (DE)
AUGUST 26
ICAMT EXCURSION – to Brno, Czechia
(If you would like to join us on Excursion Day, please contact – icamt.prague2022@gmail.com)
Places to visit:
Jurkovič Villa
Villa Löw-Beer
Villa Tugendhat
The Brno House of Arts
---
Themes of ICAMT 3 Sessions + off-site meeting will be following:
---
SESSION 1 – Museum Techniques and Risk Management
(ICAMT  &  DRMC Joint Session)
Cultural institutions suffer in the wake of dramatic, sometimes fatal, natural, or political events. Current examples can be found in countries such as Afghanistan, Ukraine, Brazil, and Syria. But disasters can occur anywhere. How do museums prepare themselves and what can we learn from museum professionals in the midst of or the aftermath of a dramatic series of events? In this joint session, we wrap ourselves around the complications of preparing for worst-case scenarios – while always aiming for the best! Potential speakers are invited to focus on everything from risk assessment and management to experiences of how to plan an orderly course of action for the event of a catastrophe.
---
SESSION 2 – Sustainability
The urgency of climate change is no longer in question. How can the museum sector contribute to the international commitments from COP 21? Architecture, building refurbishments, heating and ventilation systems, exhibition design: Every part of the museum field is relevant. But ecological sustainability is just one piece of the bigger puzzle. For this session, we also ask for papers focusing on social sustainability and financial sustainability on an institutional and a society level. This session will be an opportunity to discover initiatives and innovations that foreshadow the museum of tomorrow.
---
SESSION 3 – Exhibition Design & Digital Interventions in Museum Architecture
Where does the building stop and the exhibition begin? As immersive, digital installations become an ever more important part of the exhibition design, new opportunities emerge to shape the relationship between the museum building and the displays that it houses. Augmented, virtual and mixed reality place the visitor, the objects and the building right into contexts that otherwise would have to be merely imagined. Projections on walls, roofs, floors and architectural details can make the building part of the exhibition in ways that enhance the museum visit and highlight the architectonical qualities. In this session, we dive into contemporary examples of digital presentations that merge with the building, create new experiences and invite the visitor to interact with data and information physically and digitally.
---
Off-site meeting – Museum Architecture – new cases,
completed during COVID-19
The museum world was closed due to COVID-19. This does not mean that the projects have stopped, not at all. During this session, we like to see new projects of beautiful museum architecture. Size doesn't matter. Everything from a brand new museum, a museum expansion, a renovation, new studios, galleries or storage facilities to an exciting revamped exhibition hall is welcome. During the session, we would like to see projects that the museum is proud of, what the museum has wanted to achieve or what problem has been solved. What does the project mean for the museum, the surrounding, the city, or perhaps even the country? Have special building materials been used in an inventive way, or is there a new way of using space? All themes related to the combination of architecture and museums are relevant.