All news
February 27, 2020
ICAMT ONLINE CONFERENCE – 2020 | CALL FOR PAPERS |  Conference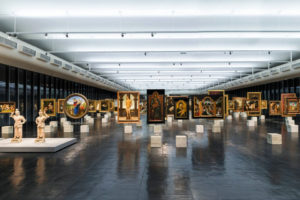 ICAMT planned to organize its Annual Conference in Porto at the beginning of October 2020. Unfortunately, the Covid-19 pandemic hit the globe. The situation is serious and many countries announced long-term precautions and restrictions.
In this situation, ICAMT decided to organize an ICAMT Online Conference on October 7-8, 2020.
ICAMT members and others with an interest in museum architecture and exhibition techniques are kindly invited to join. Each presentation will have 10 minutes of available time.
CONFERENCE THEMES
Session 1 – Architecture and Exhibit Design 
Architecture:
Ongoing or/and new projects, with the accent on:
Sustainability, inclusiveness (of special/disabled audiences), accessibility, public facilities, etc.
Exhibit Design:
Ongoing or/and new projects with the accent on:
Re-use, recycling, temporary exhibition fittings, circulation, lightening etc.
Session 2 – New Challenges:
Share of experiences regarding:
Interaction of museum architecture and security in time of crisis
Museum spaces – do we need to re-think?
Museum maintenance
Social Distancing
A new scenario for visitors circulation
Museum communication (access, number of visitors and other aspects, related to architecture)
Digitalization, virtualization and BIM systems and other tools of the virtual reality
Museum life while closed to the audience
The input of "traditional" museum architecture and exhibition design in the process of transition (from a physical experience to a virtual one)
IMPORTANT DATES
Deadline for Abstract Submission – July 31, 2020
Notification of Abstract Acceptance – August 30, 2020
Online Conference – October 7-8, 2020
Possible Digital Platform – Will be provided Later
Full paper submission – October 31, 2020
In case of interest, please, send your abstract not later then July 31, 2020 to icamt2020.onlineconference@gmail.com